Pete, Corbin, and I set out yesterday and marked the entire Oak Ass 50/100 course yesterday.
REGISTRATION
- We will have on site registration on Friday at the South Trailhead at Oak Mountain from 4 to 8 PM so you can still register! Any details for race day can be found
HERE
It looks great! The trail is a bit slick right now and has some leaf cover making things tricky in the tech sections. Racers...leave the semi slicks at home. Tires with some tread will make your day out here.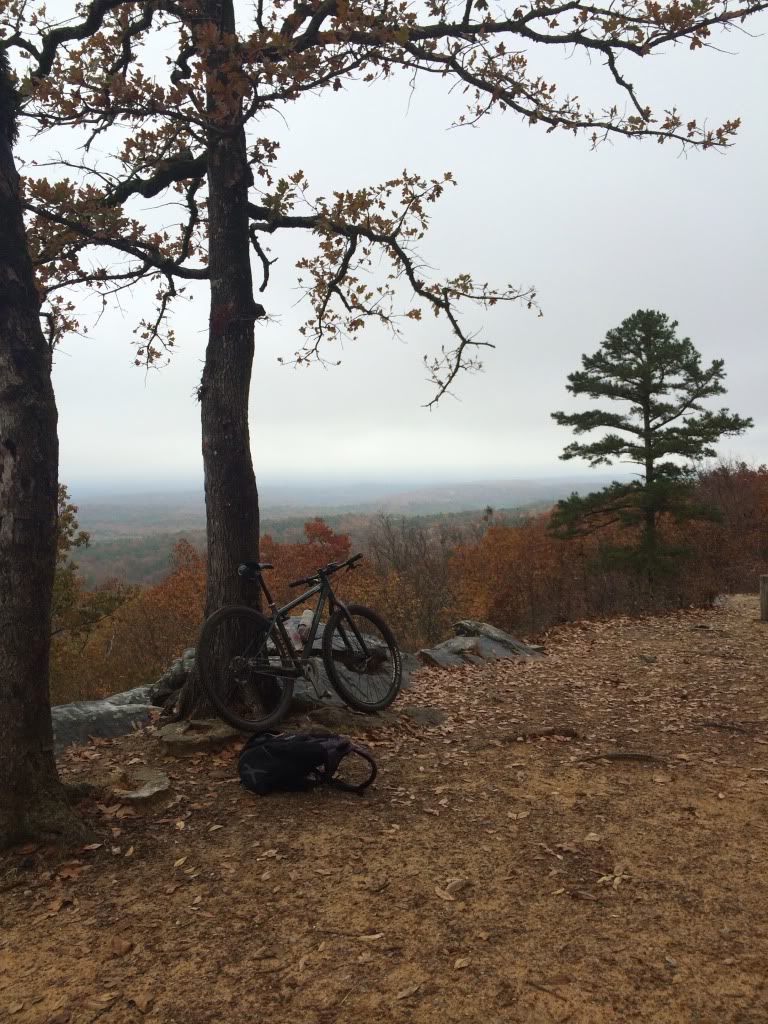 Fall at Oak Mountain
The course is marked with
green, yellow, and white arrows
. PAY attention to them, don't zone out for this race.
GREEN will be used for the first half of the course until halfway down Jekyll and Hyde. This is to about 12 miles. This includes a right split onto Jekyll and Hyde at the BUMP trail/Jekyll split. This split is at 12 miles in
YELLOW is used for miles 13 to 25. This includes a split to the left onto the BUMP trail at the BUMP/Jekyll split at 20 miles in.
Scott Thigpen and some yellow arrows.
WHITE is used on Peavine Falls paved road climb to indicate you continue straight on the road to the top of the mountain. This is at a four way point where the trail crosses the road. Race course crosses itself here and the white arrows should make it clear where to go.
There is one route change. At the top of Peavine Falls road racers will take the new CCC trail to the BUMP trail instead of the fire road. Mileage is the same and you get some bonus singletrack! This is at mile 19 to 20.
SHIPLEY DONUTS
is hooking it up with donuts and donut holes for race morning so get to the park early and enjoy!
LIGHTS.
Sunset is 4:41 PM. If you are a hundred mile racer bring some good lights! This is a tough race course and being caught out with no light will make it much harder.