I haven't updated in a bit because I really have not had much bike related things to say but now I have a little to say about a multitude of things.
First things first.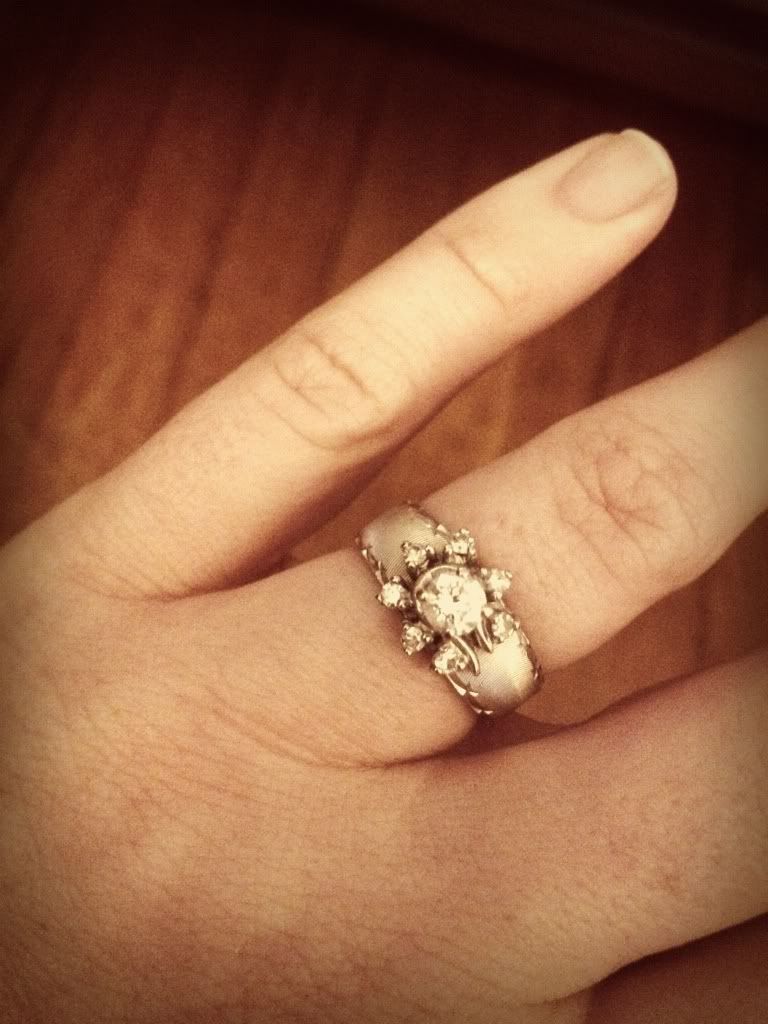 Yes, that is an engagement ring. Melissa and I are getting married! The ring was originally her mom's and Melissa was set on using it if/when we got married. It is badass, sort of vintage looking with a satin type finish on the band. No time soon for the wedding, but we are doing some planning and it is not going to be a traditional type deal. I'm really excited about it. I'm amazed I found someone I have lived with for three years and am happy to see every day when I come home. Sometimes things work out pretty well.
My riding the past couple months has been pretty mediocre. I suppose I have been doing 10 or 12 hours a week, most of it pretty slow riding to work. Just enough to knock down the weight from my post Kanza food and beer binge. I should limit those to a day instead of two weeks so I can actually fit into my pants after big races. Lesson learned. Maybe. I am not totally sure of the meaning of the work plucky but it could probably be applied to the condition of my knees. They were good at Kanza but felt shitty when I started riding again here. They are getting better, but slower than makes sense to me. I might need to eat more meat or something. I already shelled out money for a fit and the bikes feel like they fit really damn well...my knees just hurt at times. Meh, anyways. I want to do Double Dare in Pisgah in October, I really miss riding up there.
Picky son of a bitch that I am, I sold the Niner. The just freakin' built Niner.
Turns out it is possible to have too nice of a commuter bike. I came across a good deal on a cheaper commuter and it should be here this week sometime. The Niner was super easy to sell so away it went. A flat black, old man hybrid bike will be all mine soon. Possibly with a wireless Powertap on it. I miss having the power meter to track progress. This will be real similar to my Soma that I sold (like an idiot) last year and was my favorite road riding machine yet.
It seems ridiculous to sell bikes so often but I was worse when I had access to more shop EP deals. Twelve bikes in the garage at one point. I have only two right now and three when the FX gets built. Three is ok, I'm good with that. The dining room cannot hold more.
I have been riding the Nature Boy to work in SS mode and forgot how much work that is. Singlespeed is king, makes you strong like a bear. If bears rode bikes, they would probably ride singlespeeds. One of the new Surly Krampus bikes I bet.
Oh, RUNNING.
I almost forgot. We are kicking ass with the Couch to 5K thing. 15 runs so far at 3 times a week. It will be much more pleasant when the weather gets cooler.