Well, I have not seen a Skyway write up this year so I'll get it started.
I feel like I don't see many actual stories of races anymore with the popularity Facebook/Insta/Tinder whatever...a quick plug to 30 sponsors, some hashbrowns, and all is forgotten a week later.
A race as cool as Skyway deserves a few words. Brent Marshall of Bamacross fame came up with the
Skyway Epic race
and although it has existed for a few years, 2015 was the first year I had a chance to do it. I pre rode some of it in 2012 and loved the remote and rugged terrain. Any race where you actively consider your chances of being hurt by a hunter or escaped convict has my attention. Don't let my hyperbole scare...just sign up next year.
Once at the race venue I talked to some folks, ate 3/4 of a Pop Tart and paced around. I don't really ride much before start time or have any real warm up plans so I didn't want to get fancy and mess up a known routine.
I met Jami from Sylacauga ( I think) who also had a Krampus. His was a good bit lighter and carbony than mine and this would not be the last I saw of him. Yes, I was one of the dummies that rode a singlespeed with 3 inch tires a bunch of miles at Skyway. It was fun.
Brent told us some really cool stories about mud holes and bikes and we rolled out. I started fast as I tend to do and was in the top third of the 60 mile folks into the singletrack (100 milers started 30 minutes prior to us). I had no idea I would be in the singletrack for 45 minutes to an hour and was not quite redlined but knew my body would pay for the effort later. I was riding clean and didn't want to give up my spot in line. I'd rather regret going out a bit hard than riding like a bitch and being last into the singletrack. My legs are gonna hurt either way, but this method makes it easier on the mind.
Mary Sickler passed me about 30 minutes in and was going fast enough I didn't realize she was on a singlespeed also. Props to her on clean riding and a kickass race in general. After the singletrack, I found myself on some sketchy doubletrack with fires burning in the nearby woods. I locked up the rear brake around a pine straw covered turn going down a short but 25% grade hill and my concern grew - was I in an endurance race or a Brent Marshall Bamacross Special?
I rode a good bit with some folks I feel I've known a really long time, Phillip Thompson and Joseph Greenway. We got to a steep section and saw Phillip hop off to walk. I thanked him for his wisdom and followed suit. I would walk a bunch during the day but was Enduro level stoked on my new Enduro approved Shimano shoes. I could shred downhills AND walk with no problem. Like I said. Stoked. I realized about halfway up the big Bulls Gap climb I was tired. I didn't get out of breath the whole race but my legs were sure enough crushed by the hills. I realized about 20 miles in my computer mileage was off. Not by a ton but enough to make me not look at it again til the finish, where I clocked in at 65 miles. I calibrated it really close pre race but who knows...
I rode most of the way to the halfway point with Joseph and briefly saw Gavin Lansden. He had been on the side of the trail sick 5 minutes into the race and I was a bit surprised he was still riding. The climbs were going well but I knew better than to push hard as the day was long and one of the first 80 degree days this year. Translation: I was kinda scared I would cramp and I doubt I was alone. I took some serious chances on the downhills and made up lots of time. If you're gonna run giant tires at 11 psi, make good use of them.The views from up top were incredible - much nicer than last time I rode Skyway in 40 degree rain with about 50 feet of visibility! About 2.5 hours in the leaders were coming back from the mid point and it was fun to see everyone, even Hardwick.
I realized a couple things at the halfway check point.
1. I was dehydrated.
2. I was actually doing well in the SS race.
I ate a bunch and drank a Coke at the aid station. I probably stayed too long but I needed the mental rest from all the climbing and the sun. The climbs on the return to Lake Howard seemed even harder than going out due to the steepness. I rode a bunch with Paul from Bike Link Racing on the way back and enjoyed his smooth riding and enough conversation to distract me from my angry legs. I was surprised with myself. I was in fear of cramping on every climb but I got into a good pedal rhythm and felt better than earlier in the race. All I could think about was Big Nasty- the last big downhill on the course. After a bunch of steep, rutted uphills I was rewarded with a glorious 3 mile descent back to Aid Station 4 for us. Bo Nolen was lounging and I wasted enough time for Jami with the carbon wheeled Krampus to catch me. I knew this would happen and I also knew he would drop me on the way back to the finish.
I had a 32/21 vs his 32/20 and he pulled away on the fire road out of the aid station. I should also mention he was riding better than me, that always helps sort out podium places! I was in a bit of damage control and tired again at this point. I wanted badly to be back on the singletrack that had hurt me only a few hours earlier. I saw a rider laying beside the road up ahead and knew who it was before I saw him.
"You sick again?" I asked the prone Gavin.
"Nope, just cramping...go ahead."
I was curious how/when he would make it to the finish. The area of the race is pretty remote and it's not real convenient to bail out. I formulated a plan if Gavin got up and caught me. I would ride every uphill til one of us cramped again. This never happened and I didn't see him again til the finish. The multiple dam crossings on the way back in briefly made me wonder if I had somehow doubled back on the course but I kept pedaling and soon was back in the twisties around the lake. I had a blast with the last few miles of singletrack but was really ready to get off my bike! Skyway was my longest ride of the year so far by a bunch but I was still feeling much better than I expected. I popped out of the singletrack and was so exhausted I almost crashed in the wet grass near the finish line but managed to stay rubber side down.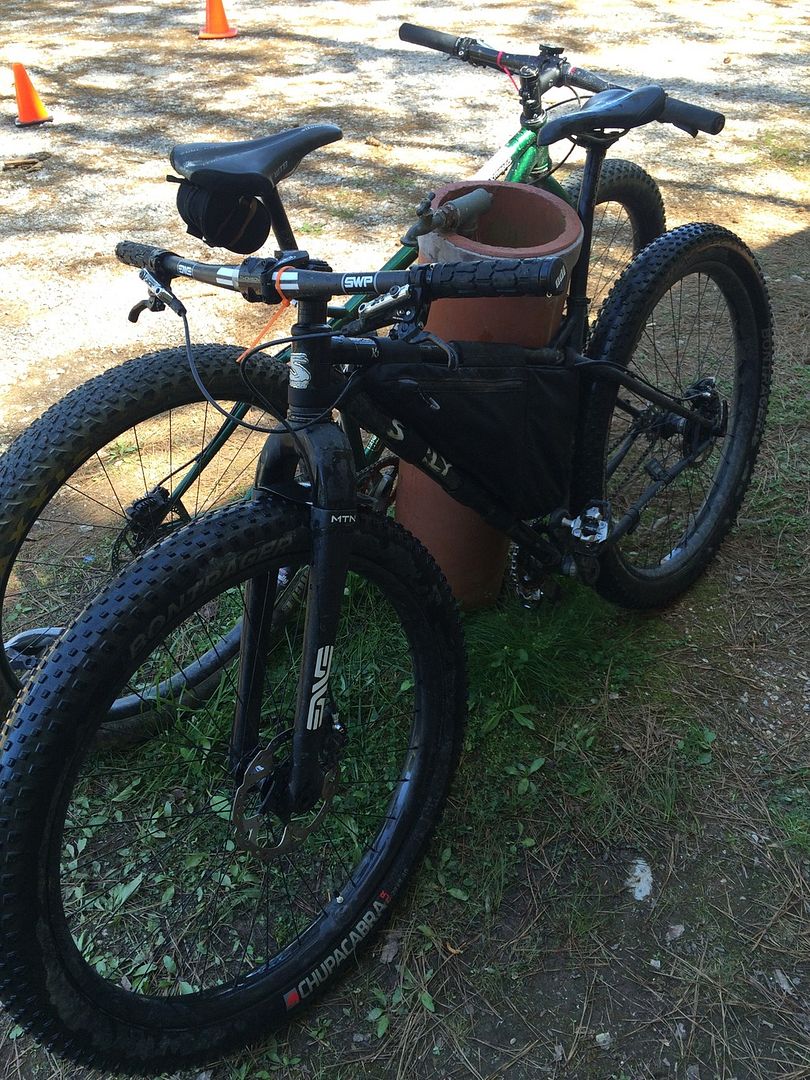 Post race. Krampus meeting.
Oh, and the results. The race made me happy and tired, like all good races should. I somehow ended up 3rd Place
(RESULTS)
and got to stand up on the podium and get a paper bag of some Octane coffee and other goodies. Jimmy Smith beat me by a good bit and Jami Smith showed me who was the stronger Krampus rider. Stronger by 6 minutes to be exact.
Photo cred: Jacqueline Hodges Marshall (I think)
Thanks so much to Brent and everyone that helped put this race on. Really one of the coolest races I have done, ever...great course, lots of strong riders, and a cooler of beer waiting at the finish. Nothing fancy, just awesome grassroots racing as promised. I'm in for next year.