After last year's
mud caked disappointment
at the
Dirty Kanza 200
there was no doubt in my mind I would be back to try again in 2012. That was decided before we even began the drive back to Alabama last year. I had to go back.
I had marked the race on my calendar and was patiently awaiting registration to open when I got an email from my boy Richard at
Backcountry Research
(one of the sponsors of DK). He had four spots available for sponsored riders and I had a chance to be one. After a couple quick emails I was in before registration opened along with Lee Neal,
Thad Hoffman
, and someone else whose name I cannot remember currently.
It was also around this time in January when I mailed my registration card in for Trans Iowa...no problem, I thought. Ride 330 miles at Trans Iowa, rest a week, train a couple weeks, rest, and go tear it up at Dirty Kanza for 200 miles.
I'm dumb.
Trans Iowa is known for putting the beat down on riders and it sure did a number on me. My knee to be exact. That son of a bitch hurt too bad to even squat down or ride to work for three weeks. Hm, this was not part of my oh so simple plan to do two of the hardest bike races in the country back to back. How unfortunate.
I was worried...but I also wasn't buying the whole, "Well friend, if you ride that far something bad will happen." Days passed, things improved, and I made the call to drive 1500 miles to go for a ride in the Flint Hills. Yet again, Lee came with me to race (
Bici Coop, yo
) and Zach...well, Zach ate bacon and drank beer. Kidding aside, Zach once again was good company and a badass crew. Thanks dude.
We stayed in a hotel, ate shitty food, and pondered what the race had in store for us this year. Ya know, things bike racers do on the way to bike races. Nothing exciting.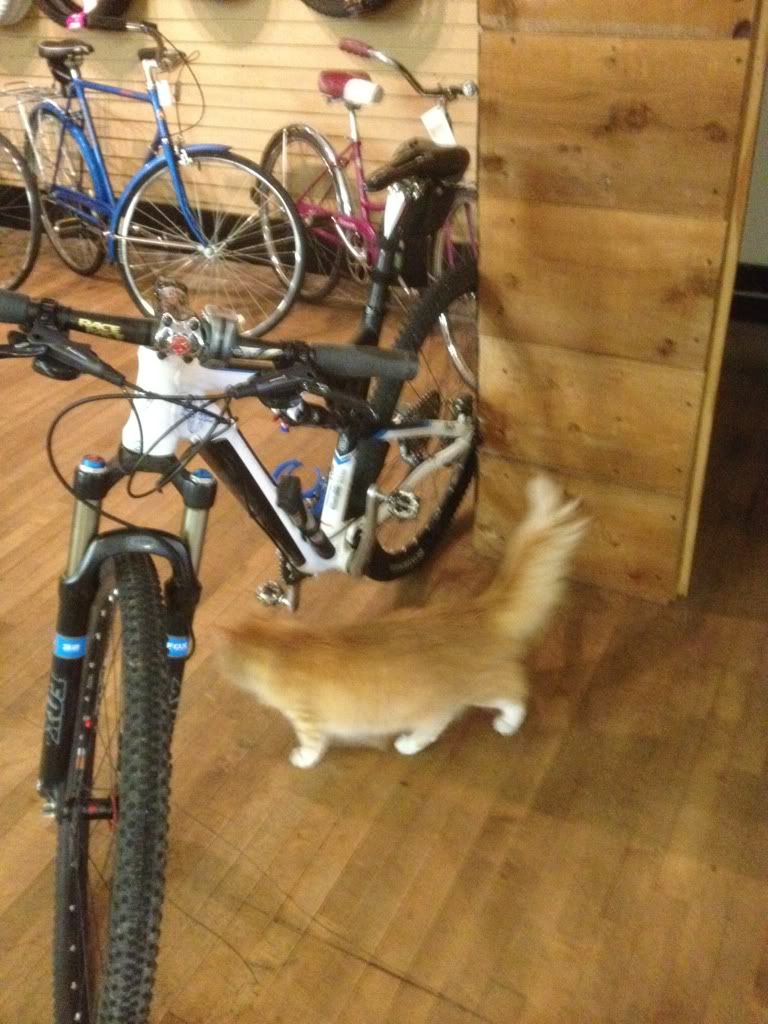 High Gear shop cat.
It was raining on and off and forty degrees cooler than when we arrived in Emporia last year. It was strange but at the same time, the promise of cooler weather had my hopes up. I kept quiet as to not jinx it. The prerace meeting was similar to last year and I even won a sick purple koozie emblazoned with the Chamois Butt'r logo! Eric Benjamin (
the Adventure Monkey
) unveiled the amazing looking print for the winner of the David Pals Award for good sportsmanship. I knew I would not win the race but I'm a pretty good sportsman. I took a swig from Zach's beer and set my event goal: get David Pals award. Well, that, and then there was the whole finishing thing. I was too full of self loathing from last year's disaster to handle another DNF. I wasn't even gonna think about quitting.
At 6 AM the next morning, 460 racers lined up outside the Granada Theater to take on 200 miles of midwest gravel. We were staged in waves this year by guesstimated finish time. We took a spot in the 18 hour area since it was closest to the car and looked around to see very few people behind us.
Back of the pack at the start
The16 hour group looked better so we shuffled forward fifty feet or so. I was amazed at how many people lined the streets to watch the start. People in Emporia are all about this race, it is so damn cool. All the stores have signs welcoming racers and places open early or stay open late.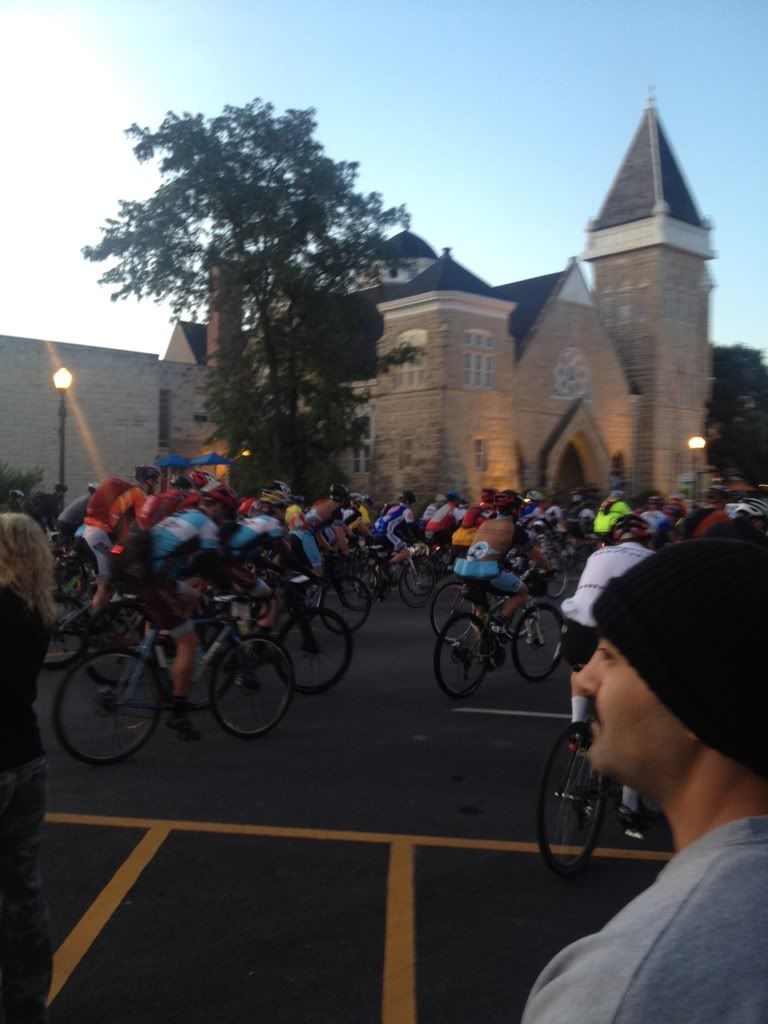 Early roll out...and guy with moustache
After a mile or two of pavement, we hit gravel and I was instantly glad I chose to ride my mountain bike. The gravel was rough was being sprayed everywhere by the hundreds of riders in front of me. My mouth was already dusty. I could feel gravel settling into my helmet vents and pinging off my sunglasses.
Ten minutes into the race, I decided it was second breakfast time and munched on one of Melissa's amazing ham and swiss sammies as I watched the sunrise off to the left. I was happy to be racing and simply focused on riding my bike rather than worrying about which wheel to follow or what paceline was faster. The urge to stay in pacelines with the gearies was strong and we did so for about 25 miles before stopping to shed some layers. As I pulled off the road I realized a rider near me (rather aggro fella at that) thought I had stopped in a ditch simply to let him by. This provided a good laugh and soon enough we settled into a group with a nice easy pace that I was content to stay with. It was great to have an actual map holder this year rather than digging it out of a pocket every two miles.
This is what the maps we got were like
Part of my plan this year was to obsessively watch the map it made my whole day better. The terrain was beautiful. The colors are so intense in the Flint Hills. Coupled with the remoteness of the region, it is just amazing. I remember at one point saying out loud to myself, "there is so much...nature out here." It made sense at the time.
I switched to an easy gear (32/17 which is 55 gear inches) a couple days before the race and realized its awesomeness as we pedaled up one of the only long climbs of the race, Texaco Hill. I reached the top still breathing calmly and said hello to some locals watching from their tailgate. Leg 1 was 63 miles and we reached the "town" of Cassoday around 10:40 AM anxious to find Zach and get back on the road. I looked left, looked right, and rode around the parking lot some. No Zach. He was either lost, late, or still asleep. I placed my bets on the third option and pondered what to do. A lady beside me asked if I wanted water and food....um, yes! The race had an option this year to pay for support provided by the
Pablove
Foundation. The lady offering food was with the Foundation and saved the freakin' day for Lee and myself. We refueled and hit the road, confident we would find Zach 45 miles down the road. Thanks Pablove people, you guys were awesome. You have a donation headed your way.
Leg 2 to Florence, KS was where I began to have a come apart last year after getting lost twice and chasing too hard in the heat to make up lost time. We made all the right turns this year, which felt like a huge victory and added to my lack of stress. It was maybe around mile 70 I began to notice my left knee hurt. I knew something would hurt during the race and figured that would be the culprit. The right one had recovered from Trans Iowa but the left one had bothered me the week before the race but was not even close to as bad as the right one had been a couple weeks before. I was also beginning to feel the consequences of riding a 135 gram Selle Italia SLR saddle in a 200 mile mountain bike race. It was punishing but I decided I would wait until Florence to dick around with it. We hit a really cool road I don't remember the name of but it was super rocky and had a few shady creek crossings. The temperature was probably around 85 but my ever pessimistic Garmin had climbed up to 102 and was starting to psych me out. Before the race, I made a wild ass guess and suggested we keep a 13 mph average but sure enough we were pretty close to that. We were going a bit faster actually but I felt like we were riding easy. Around 2:15 PM we hit 105 miles and rolled into the second checkpoint in Florence.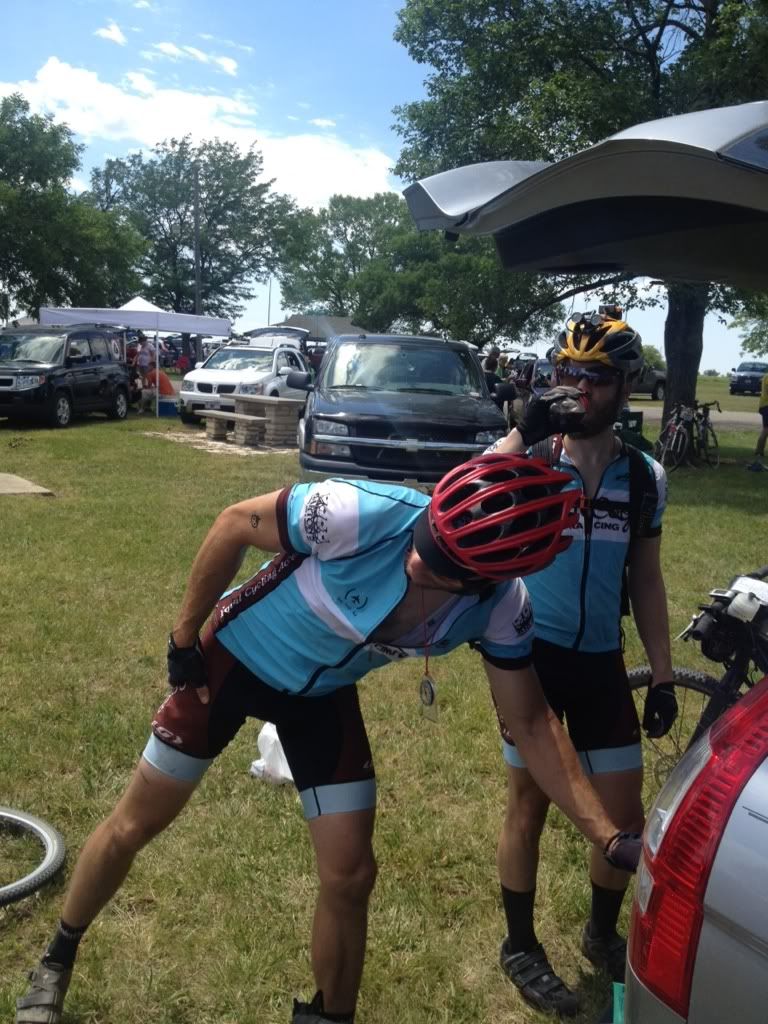 Checkpoint Two in Florence. Hot.
This was possibly the happiest I had ever been to see Zach. Turns out he got to the first check ten minutes after we left it! He mentioned it was only 85 and I vowed to ignore the Garmin's insane suggestions that we were approaching the center of the Earth.
Lee and I both made some taint saving saddle adjustments and got on our way, headed towards the section that had destroyed us so thoroughly in 2011. I felt well hydrated and strong but it was getting pretty warm. I noticed my calves were getting twitchy. I had actually noticed this 80 miles before this but began to take the issue more seriously and upped my mustard an salt intake which worked nicely. Twenty miles or so into this leg, we acquired a guy from Kansas City named John Welsh. John was also on a singlespeed and our duo was now a trio. A couple other riders joined us and the miles passed quickly as we rode and just generally shot the shit under the relentless Kansas sun. It sure was hot now but I was still sweating and actually looked forward to eating the food stuffed in my pockets. I was frequently starving and considered that a good thing. Suddenly, Lee hollered something unintelligible and swerved. I followed his wheel and saw a small turtle in the road. This was one of four turtles we saw during the race and managed to not hit any of them! I like turtles and didn't want to run over one.
"Yurtle the Turtle" began to run through my head and I asked everyone if the knew who sang it. Nobody knew and it would take me another 50 miles to realize it was a Chili Peppers weirdo B Side.
Me and Lee decided to stop and change maps and slowed down rapidly forgetting we now had a group of five or so people with us. Chaos ensued as people skidded to a halt and a guy on a Soma ran into Lee. We took off and now had a group of four that was working together quite efficiently to make it to Council Grove, the site of the third checkpoint at 165 miles into the race. Our fourth rider was the guy who ran into Lee when we stopped. His name was Ryan and this was his first bike race. I was and still am in amazement someone would choose a race this brutal as their first. He told us about all the miles he put into training and how excited he was to be racing. Later in the day, Ryan put forth a thorough explanation of why the DK200 was harder than the Bar Exam. I made a foolish mention of how calm the winds were and they instantly gusted up a couple times as a warning of sorts.
Lesson learned. I didn't say shit about the wind after that.
We began to see riders laying in ditches or in front yards trying to escape the heat. The beautiful gravel roads had become the avenues of broken dreams for those who had gone out too hard or forgotten to eat. After passing a bridge out sign we saw three riders standing in the road, one of which was vomiting onto the hot gravel. On we went. I realized early into the third leg I had not had to walk any hills yet and instantly vowed to not walk a hill the rest of the race no matter how steep it was. I mentioned this to Lee and he was on board. I gave him half a packet of chamois cream and we discussed the possibility of this act garnering me the David Pals award. It was a rush to ride the B Road section that ruined the race for me last year. B roads are awesome when dry and devastating when wet. Things were looking good, goals were being met, gravel was being crushed. As it should be.
John announced he had a flat and pulled of the road and we discussed what to do. He had everything to fix it, so Ryan, Lee, and myself went on without him. I saw a field off to the right that made me instantly think about Tom Petty. After some discussion, Lee and I decided the field looked like the album cover of Highway Companion.
I noticed an older rider wearing sandals and wool socks, which I found interesting.
"How do you like those sandals?" I asked him.
"Sandals and aerobars...sandals and aerobars!" he yelled excitedly. Dude was pumped about his setup.
We rolled into Council Grove and quickly found Zach. I drank part of a beer, then a Coke, and they both tasted wonderful.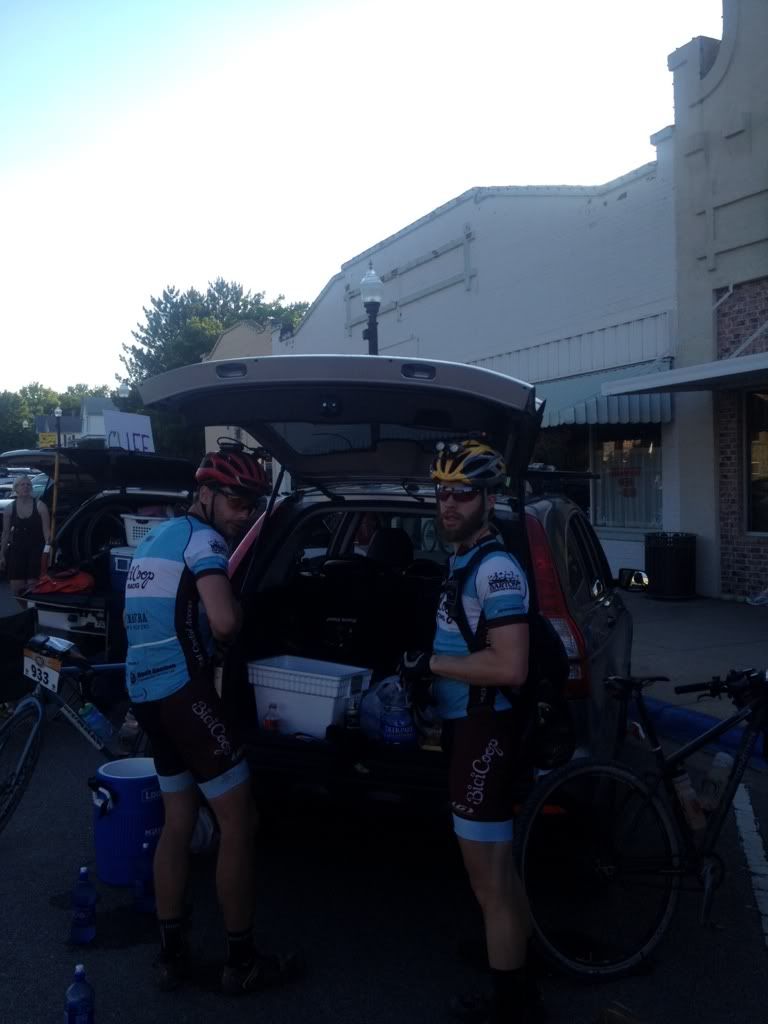 Awkward chamois tending in Council Grove
I had been saving my iPod for when I found myself in a deep, dark pain cave but this moment didn't seem like it would be happening. Yeah, I hurt. Lots. I didn't mind, I was doing what I set out to do and had other things to think about. I found some Metallica on the iPod and we met up again with Ryan to knock out the last 37 miles back to Emporia. 37 miles! So close but I didn't want to get cocky so I didn't say much about it. Neither did Lee or Ryan. Scott McConnell was walking into Council Grove with a flat tire and a bum knee as we were leaving. I felt bad for him. We rode the last 30 miles of Trans Iowa together and I hoped he would finish this one too. Lots of people were quitting in Council Grove. That is how this race goes. Even under ideal conditions, many fail.
The weather was finally cooling off and the first seven miles of the fourth leg was an awesomely fast shaded rail trail. We rolled along at 17 mph which felt insanely fast after riding for 13 hours already. The hills on this part of the course were disgustingly steep. I made sure not to look at the percent grade on my computer. It didn't matter, I was gonna ride them no matter what. It had already been decided. The course took us over a bridge where some people below were on a houseboat drinking beer and cheering us on. I was happy, jealous, and pissed all at the same time. They looked so comfortable while my pain level was steadily increasing, tempered only by hopes of finishing the race. As darkness fell, the lights went on and navigation got trickier. The maps were hard to read but the course was marked better this year. I was shocked at how many riders on course simply depended on others to lead them around. I had decided before the race I wanted to know where I was at all times and now it was paying off. Thad and a couple other guys passed us twenty miles or so before the finish. I rode with them briefly but hung back to ride with Lee and Ryan to the finish.
There was some tense discussion at a couple intersections but we made all the correct turns and soon hit pavement. Two miles to the finish! I had been looking forward to the pavement since it would roll easier than the gravel. I didn't realize what a disadvantage my bike would be once off gravel.
Lee had a bigger gear than me and the others were on geared bikes. We were rolling fast and my heart was racing trying to keep up. I had no idea why were going so fucking fast but was too breathless to complain so I just accepted the last two miles would be really hard for no good reason. The pavement was marked with spray paint which was tough to see but I guess Lee had good spray paint vision and was proving to be a competent leader. The course went through the college campus in Emporia and we saw a red light up ahead.
No traffic. Run it. A hundred yards to go.
The finish line scene on Commercial Street was nuts. There were so many people there and they were all so happy. Genuinely happy. Or drunk. Or maybe its all the same, who cares. It was awesome. I crossed the line with my two riding partners for the previous six hours and someone put a Finisher pint glass in my sweaty hand. People kept trying to shake hands with me and I was paranoid about dropping the pint glass.
I also wanted to fill the Finisher glass with what I though would be free Finisher beer. It wasn't free.
The guy serving either felt sorry for us or liked us as he gave us the beer anyway. Soon after, a random piss drunk lawyer made friends with us and bought us beer after finding out we finished on singlespeeds. We talked to his family some. They were from Emporia and super nice. Malcolm from Colorado came up with a bucket of fried chicken and biscuits from KFC. I ate a biscuit that someone had already eaten part of as we watched the award ceremony. A guy with a gnarly beard walked up and gave me and Zach cards to join the Emporia Beard Club which I was really proud of.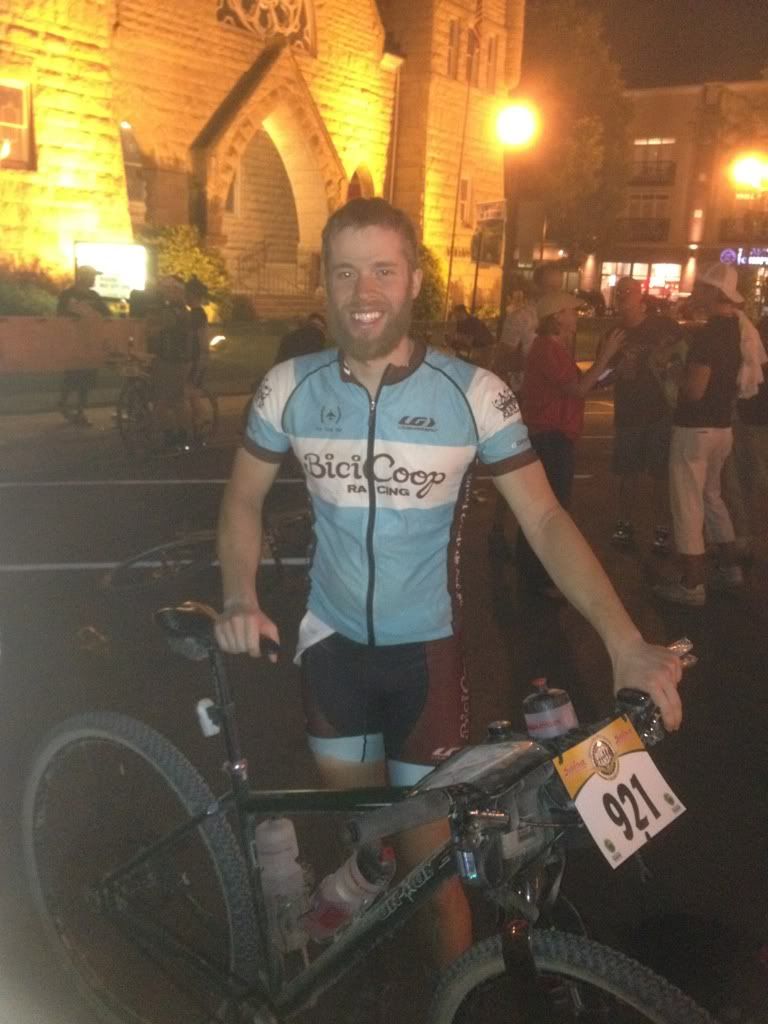 Done. Sorta happy.
Lee and his sparkly Gunnar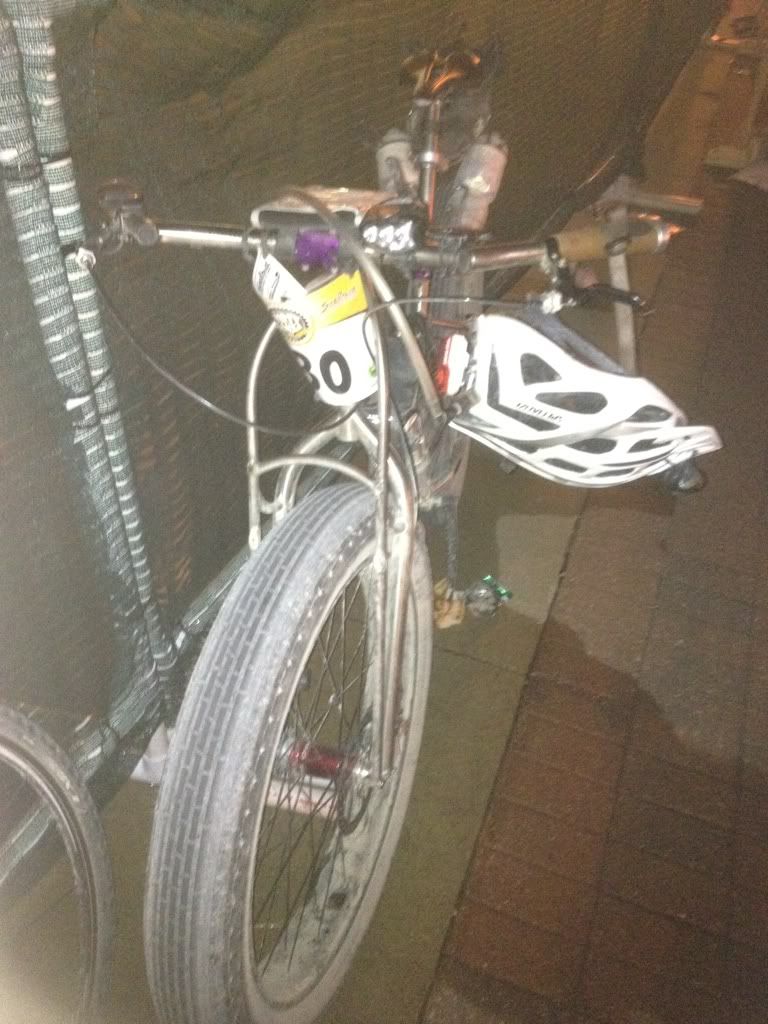 Someone rode 200 miles on this. Baller.
I've never been as happy to finish a race as I was with this one. Last year's failure made it that much sweeter. Thanks again to Zach for all the help, Pablove Foundation for the bailout, Backcountry Research for sending us, Melissa for being so cool about me doing stupid shit like this, and all the wonderful organizers and volunteers. I have raced 585 miles of gravel so far this year. These events have an awesome vibe to them and I have met some great people.
Oh yeah, we finished pretty well too.
I was 19th Place Singlespeed and Lee was 20th. We did the course in 16:28, beating cutoff by about five hours and didn't walk one single hill... Dunno if that has smart but it sure felt good. Somewhere in the 120ish out of 460 overall racers. Here is the data on
Strava
.