Ahhh, the last Trans Iowa post...for now, anyway.
If you missed the previous three installments of my posts on Trans Iowa they can be found here:
You might have noticed these first three were a bit lacking on details describing my bike and gear. I did this for a couple reasons. I felt the story read better without being cluttered with things like, "I was so stoked I ran 4mm derailleur housing instead of 5mm blah, blah, blah..." and this will hopefully help anyone else dumb enough to go tangle with Trans Iowa in the future.
The Bike and Gear:
Post race. Sorta gross, as was I
Bike: All City Nature Boy frame and fork
Wheels: Stans ZTR Arch rims built by me to Surly hubs with DT spokes. Brass nips.
Tires: Schwalbe Marathon Extreme 700 x 35C tubeless w/ Stans juice at 45 psi.
Drivetrain: Dura Ace crank, KMC Z610 chain, White Industries freewheel. SPD pedals. 39 x 19 gearing.
Brakes: Shimano XTR V brakes with Avid levers. Continuous cable housing.
Controls: WTB Vigo saddle, Niner 680mm flatbar, Ritchey WCS barends,
ESI grips
Bar setup, Garmin missing from mount.
Pack: Wingnut Hyper 3.0 w/ 100 oz. Camelbak bladder. Mountain Feedbag on bars. Left a Revelate Tangle bag in hotel room just before start. 2 24 oz. bottles on the bike.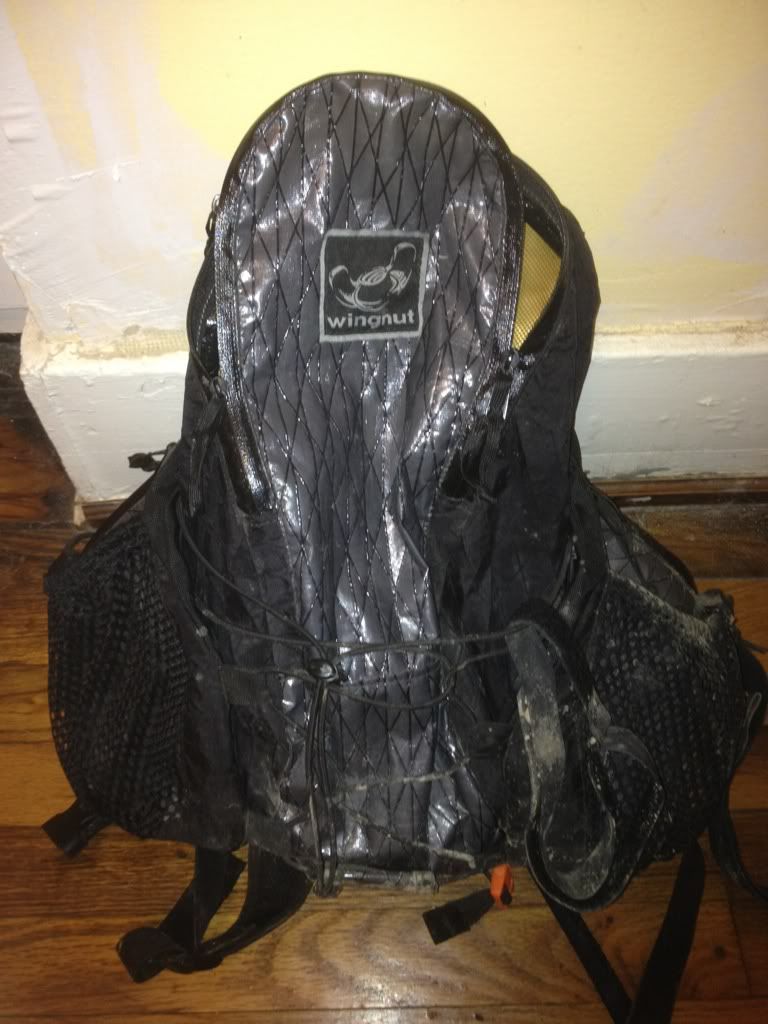 Wingnut Hyper 3.0. Great pack.
Lights: AYUP bar light w/ 2 12 hour batteries. Princeton Tec EOS helmet light. Superflash rear blinkie.
Gadgets: Cateye Strada Wireless computer. Garmin Edge 500 GPS w/ Geomadic charger run off AAs.
Tools: 2 spare tubes, 15mm stubby wrench, 1 tire lever, Pedros multitool hacked down to bare minimum. The rest of my toolkit was contained in a Tulpurse from
Backcountry Research
. This contained a spare chainring bolt, superglue, duct tape, tire boot from Rich at Backcountry, two zip ties, chaintool, extra links, spoke wrench, patch kit, razor blade, 12 lb test fishing line with curved needle...all in a two by two package. Lezyne pump wrapped in duct tape on bike.
Tulpurse and multitool
Cue sheet holder: Homemade from a piece of plastic and packing tape reinforced Ziploc bags.
Extras: Suunto compass, Iowa map, small packet chamois cream, wet nap, eye drops. Survival blanket.
Thoughts: Everything worked great here with a couple exceptions. I was really glad to have the flat bars on the 30mph downhills in the middle of the night. I don't feel like I can get the same control with drops. Also, zero blisters or hand soreness after 332 miles...didn't expect that! I should have run the Ayups on the helmet and left the extra AAA battery light in my pack. The Geomadic Garmin recharger worked perfectly and as a bonus kept the unit's backlight on all night. No shoulder or neck soreness from the fully loaded wingnut.
Clothing:
Defeet wool base layer - worn at all times
Jersey and bibs - worn at all times
Knee and arm warmers- worn at all times
Rivendell MUSA knicks
Twin Six wind vest - worn at all times
Icebreaker merino ski socks
Giro thin summer gloves and $10 double layer fleece gloves
Ancient falling apart Specialized shoes
Even more ancient Trek "test ride" helmet from Cahaba Cycles
Smith Pivlock V90 glasses with clear lenses. Never removed them.
Montane Featherlite smock windshirt. 3 ounces. Packs to apple size. Non edible.
Patagonia Torrentshell rain shell. 10 ounces
Patagonia Nanopuff vest. 8 ounces. Emergency insulation
Lantiseptic Skin Protectant for chamois use. This stuff is awesome but disgusting. If you are riding a long time check it out. My ass was sore when I got done but no lasting er, issues.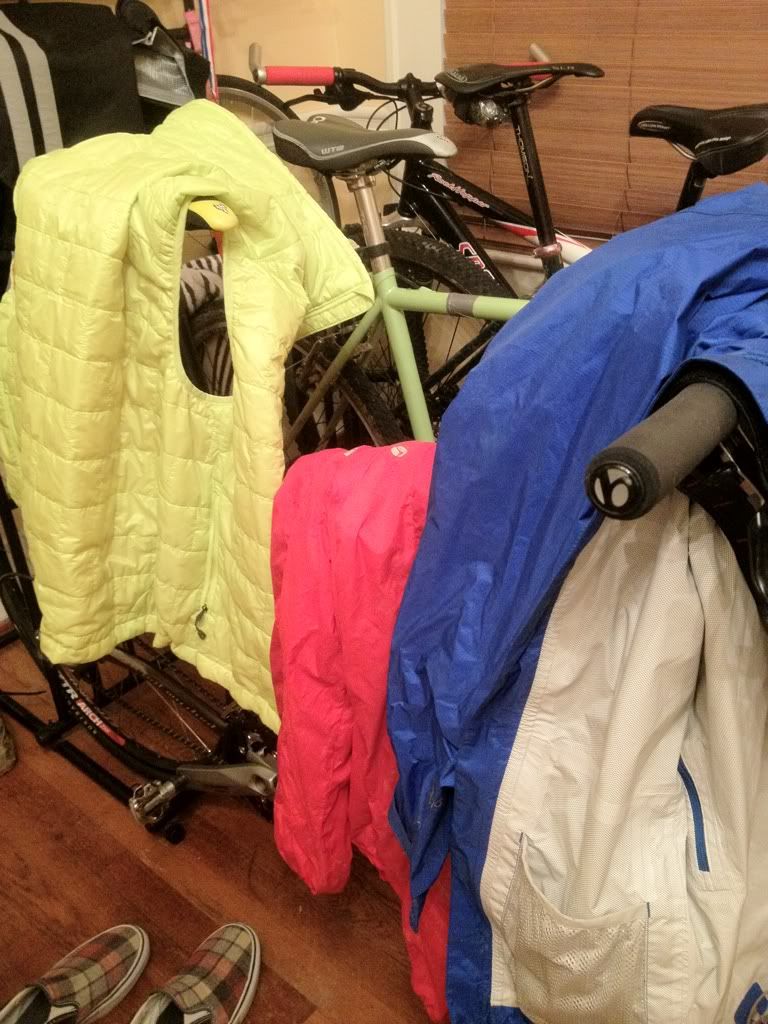 Nanopuff vest, Montane windshirt, rain shell
Thoughts: Clothing system worked well. The weather started out sub 40 and raining with a 20 deg F windchill, warmed to 55 and partly cloudy, turned cold, then went to shit again at 4 AM. Not easy to dress for. I was able to add or subtract layers easily and was usually comfortable. I am going to change the glove setup and use wool gloves with MLD Rain Mitts to go over them for storm use. I only wore the Nano vest once and it was way too warm, I think I would be good down to 15 degrees with it if needed! Clothes storage was an issue. I want a Revelate seat pack, my system was to stuff extras in the Wingnut and this got slower and more frustrating throughout the race. I would also add a pair of Gore Tex or Event baggy shorts. Pretty happy overall here.
Food:
Electrolytes: Nuun tabs. Succeed S Caps if the weather turned hot.
Extras: Sportlegs, mustard packs, Advil
Food: Started the race with five ham and cheeses made by Melissa (love that girl), three Little Debbie cosmic brownies, three Larabars, an oatmeal creampie, and lots of caffeinated gels for the night. At gas stations I bought Snickers, pizza, Reese's cups, breakfast sandwiches, Payday bars, more Cosmic Brownies. A couple of the checkpoints had Clif bars, which I hate but also, I had to eat!
Thoughts: I added it up. I consumed close to 9,000 calories in 35 hours and my stomach felt fine the whole time. No cramps. I burped but I always do that, consider it part of my charm. I found I mostly preferred sweet junk food and never tired of it. If it was hotter I would have had more salty, savory foods. Absolute favorites were the ham and cheeses and a Reese's Fast Break I found in Montezuma at the first check. I hate Clif Shot gels, the stupid tab leash thing was confusing to me at night.
Jeez, how's that for detailed? If anyone has any questions about this stuff I would be happy to answer them. Just leave a comment below. Trans Iowa is a tough race and tough to plan for. You have to deal with your choices and the ensuing consequences for 35 hours. Plan carefully and DON'T try to save weight.

After the race

Some might be wondering, "how did you hold up?"

After hearing some other riders post Trans Iowa horror stories I feel pretty good. I went to work two days after the race and felt totally normal except for my right knee which is pretty well a lump of shit right now. I noticed after the race my chain developed a tight spot right where my right leg would press down every pedal revolution. I started having knee pain about 10 hours into the race soooo 26 more hours x 3600 odd pedal strokes and hour equal one furious and inflamed knee. I went to one of the doctors I worked with about it yesterday. I didn't damage anything, just have some irritation (lots) in the medial patellofemoral ligament and articular cartilage. I need to rest it so it can heal. This means no Skyway and DK200 is uncertain...I'll make that call in a few more days.