EDIT: I am clearing some stuff our around the house and this frame, fork, and crank are for sale! Message me if interested: jkarrasch at hotmail dot com
It has been a few weeks since I put up the initial build post for the Black Mountain but I didn't want to put up the second part of it until I was happy with the bike.
The issue was the bars. The damn drop bars.
I just can't ride them. I used to but then my riding switched to more commuting, more night riding, and less group rides. I have lots of rides on shit pavement in the dark with a backpack on and the drops just felt weird a good bit of the time.
First I tried the Salsa Woodchippers. They were good in the drop section but all the other sections were bad and they made the barend shifters stick out and hit things.
Next came the much loved by Rivendell Nitto Noodle. Meh. If anyone wants the Woodchipper or the Noodle cheap lemmee know.
It was time to put the mountain bike bars and I gladly did so after one ride. I used a long, flat stem and a Niner alloy flat bar with some big, honkin' bar ends. I really like the bike now and everything just works. Nothing is fancy except the wheels and it is versatile for whatever I want to do with it. Like...ride it, lean it on things, take pictures of it. All that in a day. Versatile. Yeah, its a hybrid now. Hybrids are awesome. Possibly the least pretentious of all commuter bike variants.
Build list (updated):
Black Mountain Cycles frame with disc mounts
Waltworks custom fork
Cane Creek headset
Industry Nine hubs to Stans Arch rims with Wheelsmith spokes
Crappy hybrid tires
Shimano Dura Ace 9 speed drivetrain
Shimano Sora crank
Shimano XTR pedals
Avid BB7 disc brakes with FR5 levers
Thomson post and WTB saddle
Bontrager stem, Niner Flat Top bar, and ESI grips
Ritchey bar ends
Jandd frame bag
The only thing I want to do is find some 35 or 40C tires to set up tubeless on the Stans rims for the ultimate in rough road...bearability. I couldn't say pleasure there, that would have been stupid. Schwalbes would fit the bill here.
160mm BB7s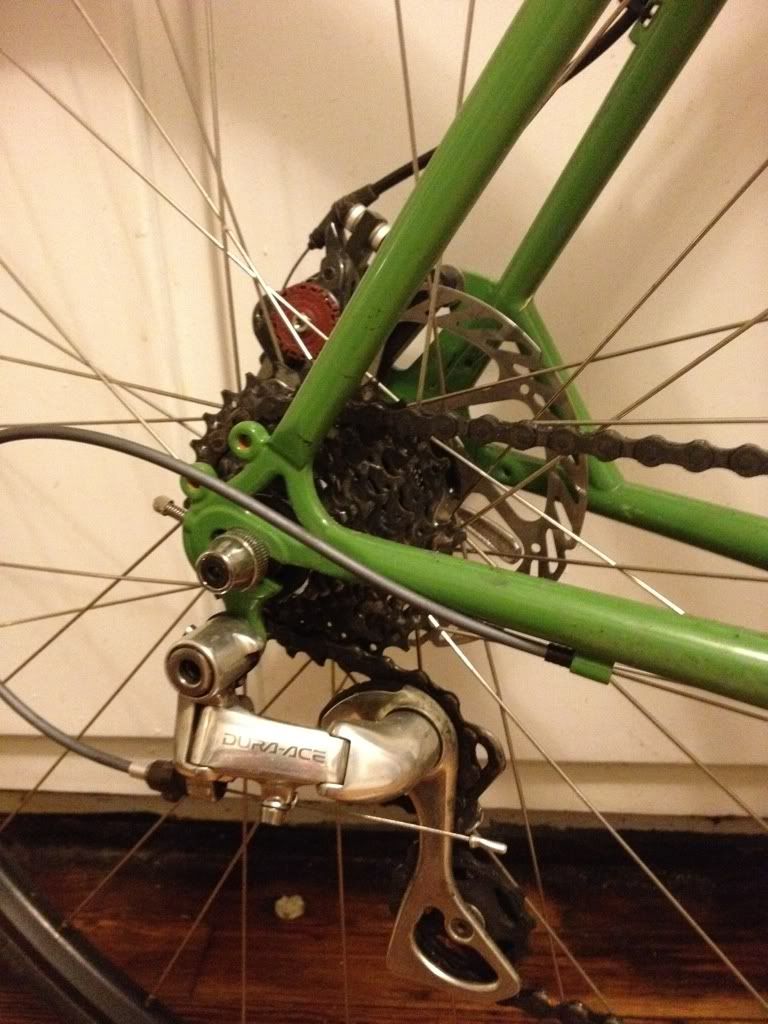 Dura Ace triple derailleur
Huge clearance, clarence. That is a 35C.
Bolt on fender. Cow poop and mud on the frame bag.