Melissa and I went all the way to Austin, Texas this past weekend for a bike fit! Here is the how and why of it all...
I have had my Fuji Roubaix now for a few months and it has been a good bike so far. Nothing fancy, just a solid road bike...my first one in about five years I would guess!
I have fiddled with the position here and there but due to the fact I cannot watch myself ride some things were not quite dialed in. I knew I was close but needed some help.
Whats an obsessive bike fitter to do? Find another obsessive bike fitter of course!
My experiences with traditional fits have been disappointing to say the least and one of my inspirations for finally getting
my own fit business
started.
I came across
Jerry Gerlich of Castle Hill Cycles
in Austin, TX through
Steve Hogg's website
. Steve has an amazing mind and a boatload of common sense on his website. Some of it may seem a bit out there but it holds up to the important question, "Does it work?"
Anyone that has ever had a bike fit or is thinking of getting one should read the
Perspectives on Fitting
article on Steve's site. Read it. Trust me. "Pro bike fits" are not all the same and range from great to quite poor. Choose carefully.
I have felt best on my bike through setting myself up based on comfort and advice from Steve via email. Steve has only trained a few people in the world and Jerry happens to be one of them! Steve only takes a select few fitters to train and there is no guarantee you will pass if you go train with him. Those selected to train with him stay for three weeks of learning. I hope to make the trip to Australia in the next few years to train with Steve myself.
Melissa was nice enough to get me a fit from Jerry for my Christmas present this year and we had a great trip out to Austin aside from a mild panic over a broken starter in downtown Austin.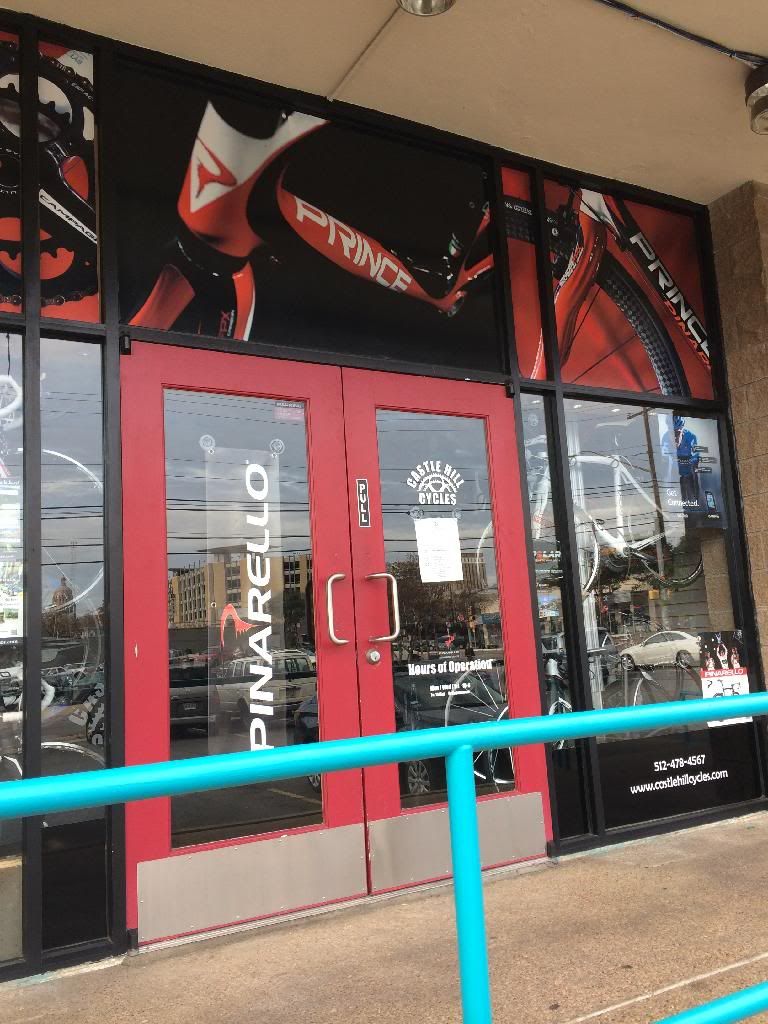 The Castle
Jerry is super knowledgeable about all things bike and body related. He knows his music pretty well too. The gym at Castle Hill Fitness next door to the shop is probably the coolest one I have set foot in. Tons of free weights (sorry...) and Pilates equipment. There are a variety of yoga and indoor cycling studios in the building. There is also some wild Jacob's Ladder contraption people climb which fortunately I didn't have to suffer on!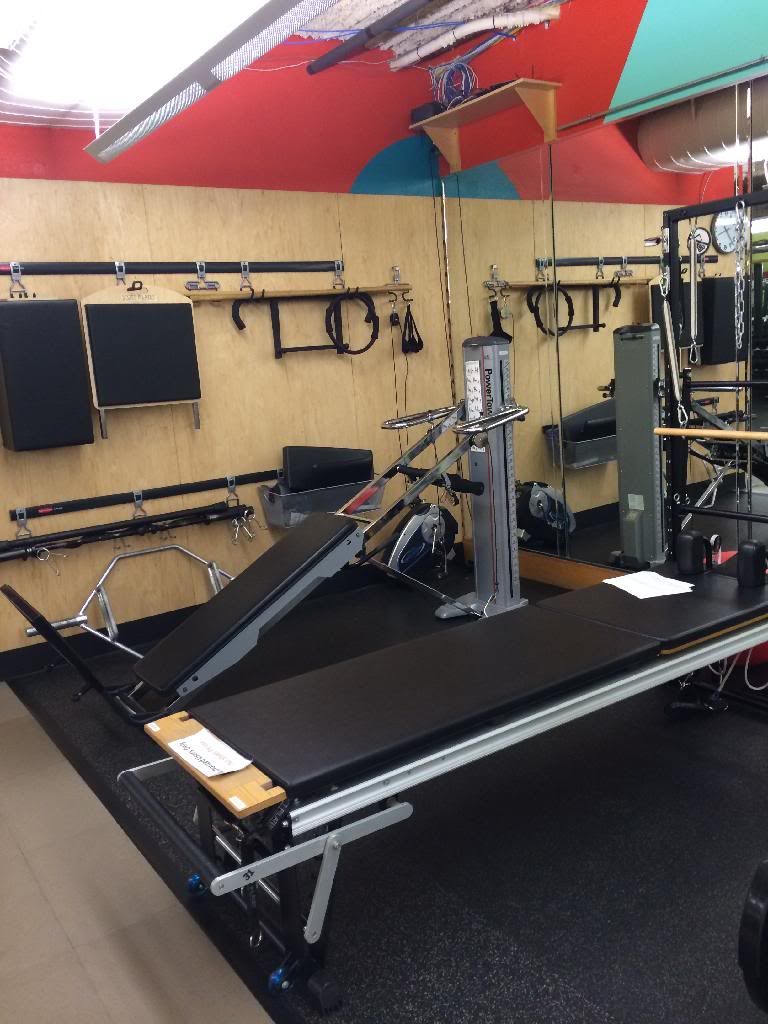 Equipment inside Castle Hill Fitness
Jerry had me warm up on a Total Gym squatting tower with very light weight and listen to some music while he measured my bike. Afterwards he showed me some of his methods of measuring and I even learned a couple new tricks to use with my own fits. I warmed up for a few minutes on the bike and did a brief time trial at what was supposed to be an 8/10 effort. I hit it a bit too hard and barely made it two minutes but he now had a good idea how my body functioned at high intensity. He briefly went over with me some problems he noticed with my position and how they were affecting my body.
Next we went through an extensive off bike analysis of how my body worked off the bike. This is one of the most important parts of the fit because limitations in your body's function and symmetry can really limit on bike performance. Despite my current holiday beer gut I am still fairly flexible and stable so I did pretty well on this portion. Jerry did find some areas I can improve on to be more stable while riding and I look forward to integrating his suggestions into my off bike exercise routine.
Before I got back on the bike, Jerry did some testing to determine leg length and posture to make sure I was functioning as well as possible before we went through the rest of the fit. Turns out I have a right leg that is a bit shorter than the other and this was playing a role in my pelvis tilting to the right under high load. We went through some of the "weird stuff" that Jerry learned from Steve in Oz which made a significant difference in my symmetry and posture. One of the longest sections of the fit was optimizing my cleat position and foot correction which includes proper arch support and wedging to tilt the foot to where it is most stable on the pedal with no pressure points. This helps optimize
proprioceptive
feedback to the parts of your nervous system that coordinate the pedal stroke.
Just from the foot adjustments I was more stable on the bike and felt more powerful! I was still dropping that damn hip and while I left the room Jerry made some adjustments to the bike. He didn't tell me what they were but when I got back on it felt different but good. We did another time trial and the hip drop was gone. The stability was further improved as well. We did a quick adjustment of the bars which I had pretty close but they were now more comfortable. Road bars are way harder than mountain bike bars to setup!
We went outside and I did a couple hill climbs to check everything out. Looks good, feels good...I was happy. Jerry did one last measure of the bike setup so I have a reference in case I ship it anywhere. Six hours later and we were done! The time totally evaporated while I was there and I was pretty damn tired when we were done.
Overall it was a great experience and totally worth the trip. Jerry offers a great approach to bike fitting that is individualized to the client to get them as comfortable and efficient as possible. The fact he offers a money back guarantee made me confident in his methods and I felt like he really wanted to help me and not just line some stuff up to make a buck (quite a few bucks really haha...). He wasn't worried about my knee or hip angle while pedaling. No goniometers or plumb bobs to set me up. No plugging numbers into a computer to get a readout. No fancy motion capture. Everything was done by him watching me ride and making adjustments to improve my function on the bike. Cool stuff! I did a ride on the rollers yesterday and felt comfortable although uncoordinated in the new position. I plan on doing some easy rides the next few weeks so my body can reprogram as needed.
Austin itself was a great town. Cool stores, avocado margaritas, barbecue trucks. I'd go again. We also stopped at Mellow Johnny's Bike Shop on the way out of town which was fun. Bit of bicycle sensory overload there.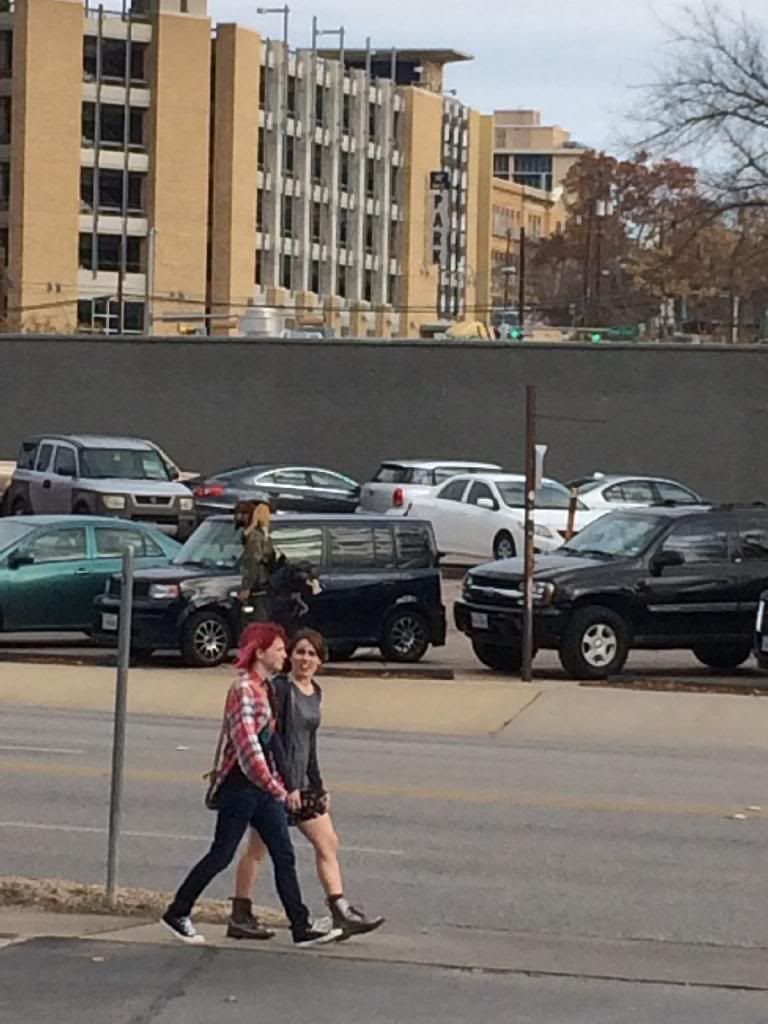 Guy with a cat on his shoulder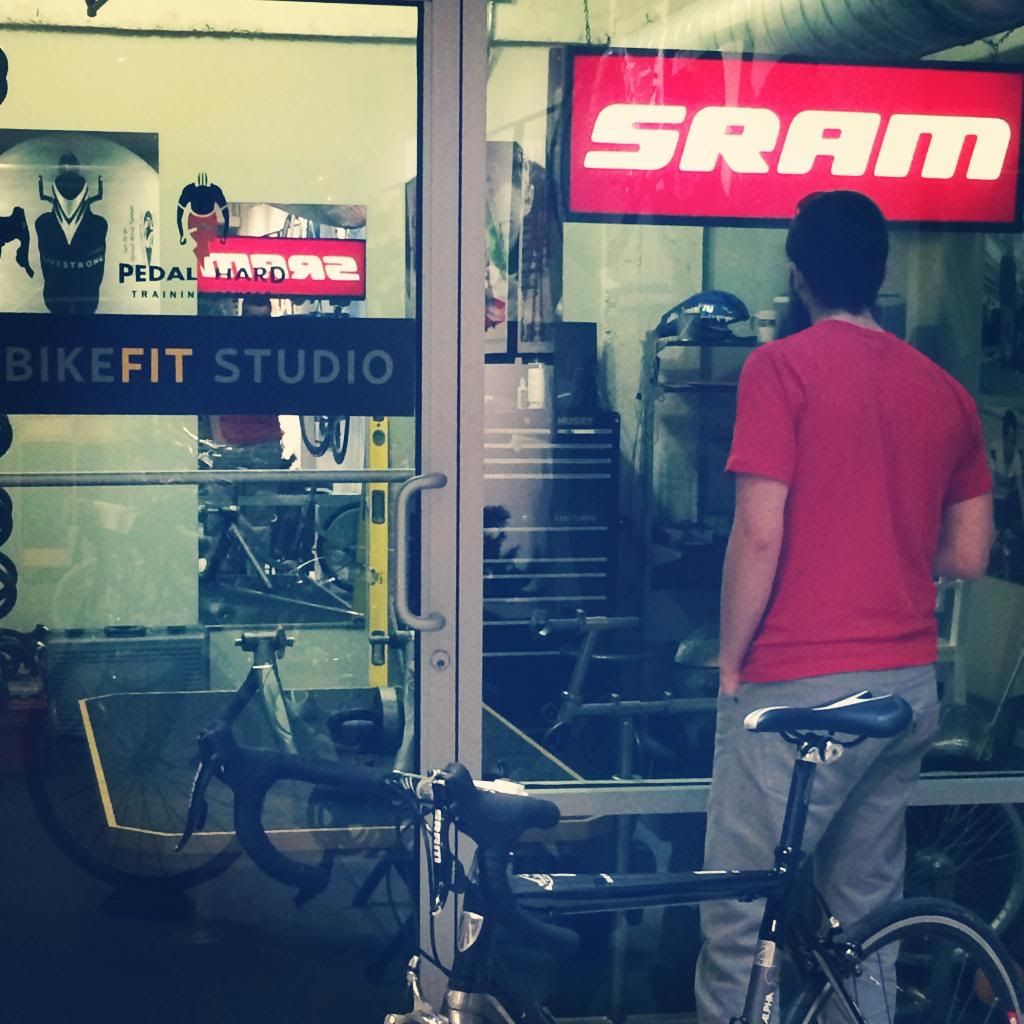 Mellow Johnny's fit area
Huge shop
Rapha envy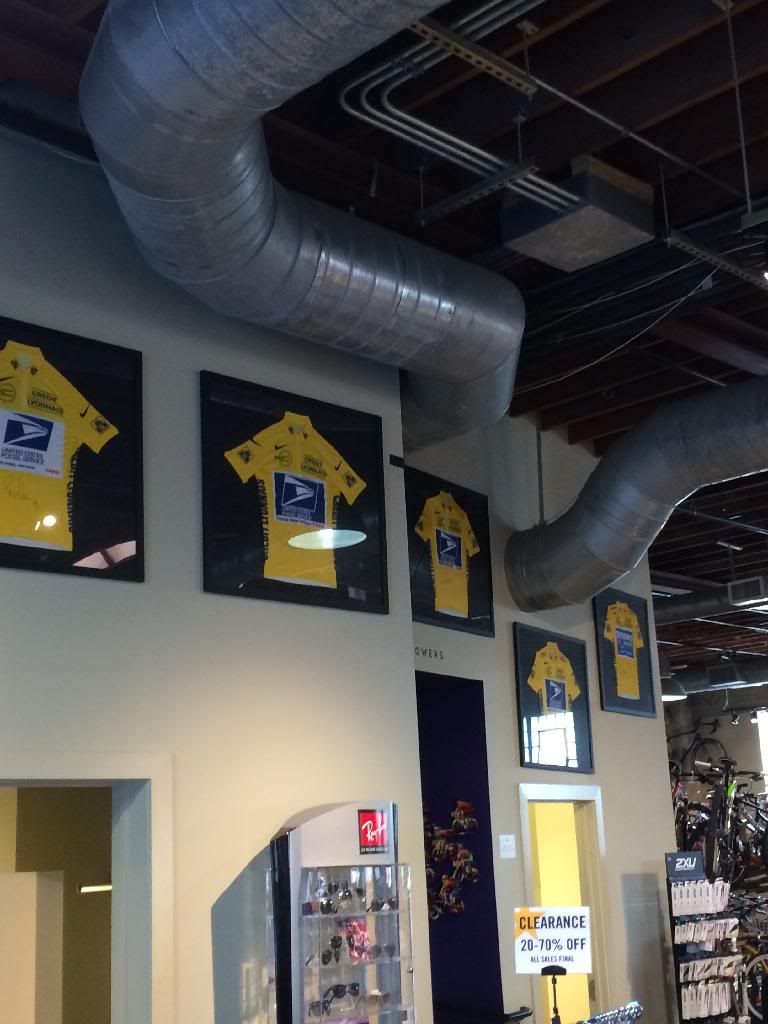 All Lance, all the time
LA LT100 bike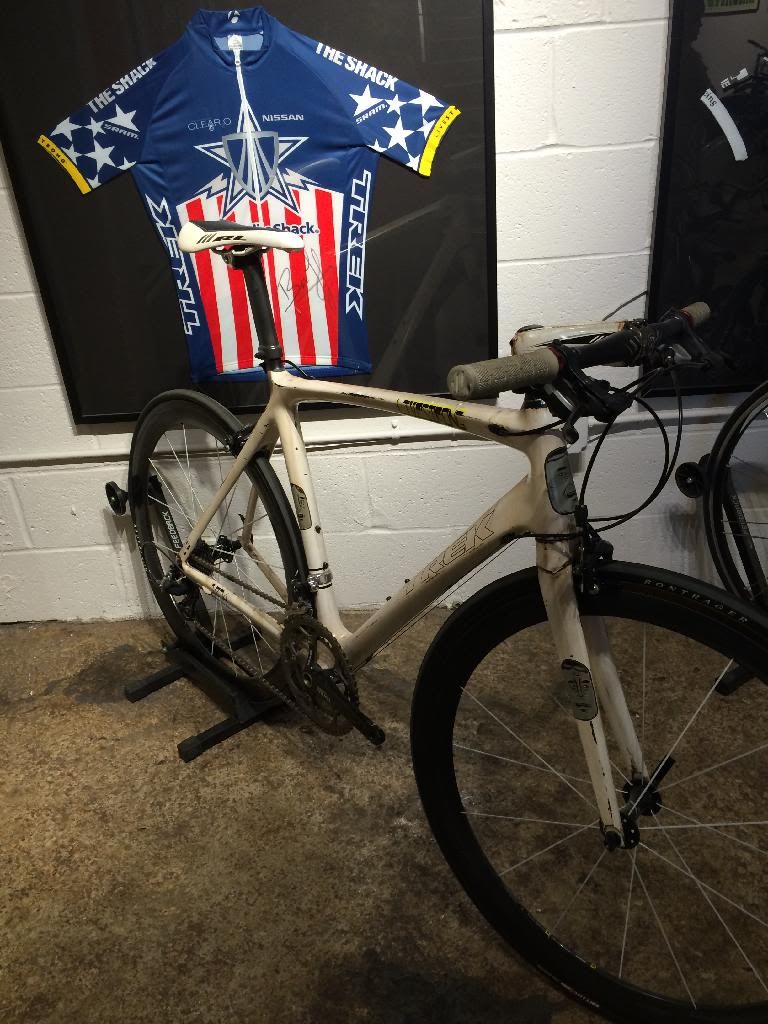 Awesome Project One commuter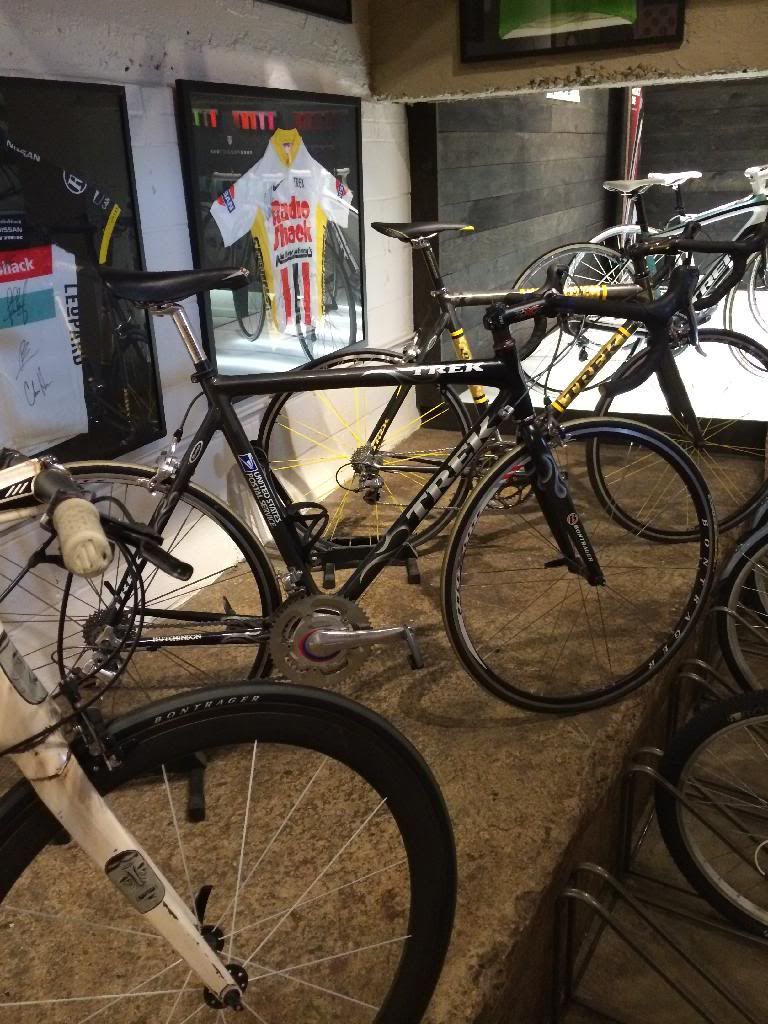 Old Lance tour bike
TT and barely ridden madone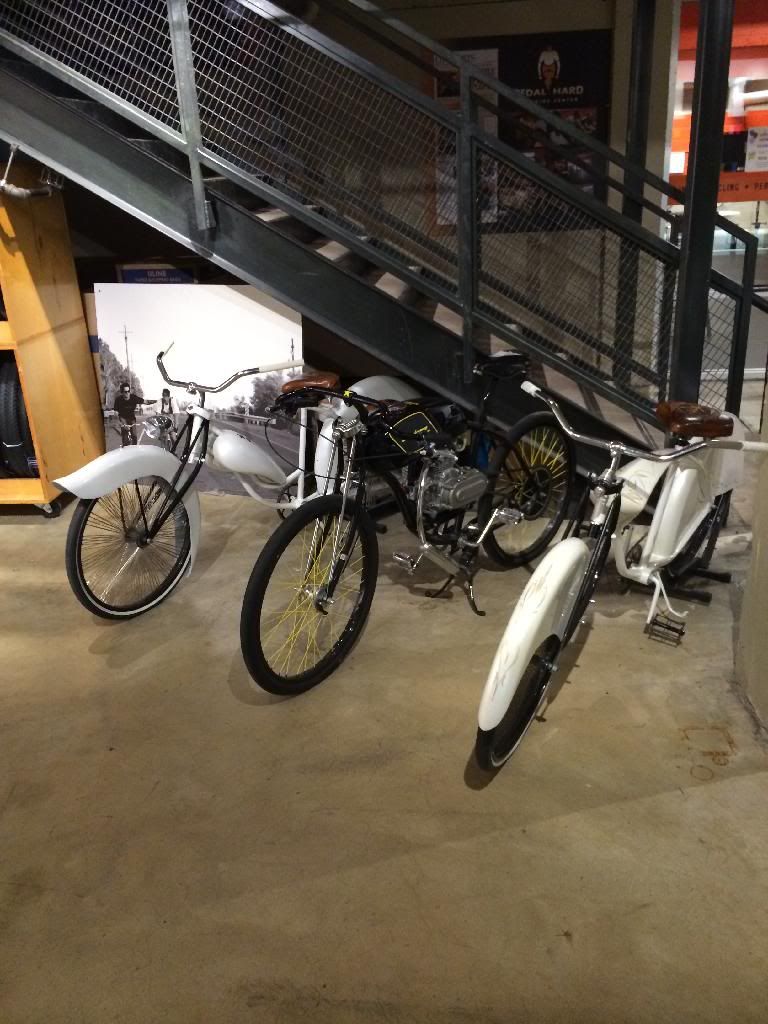 Fastest bikes in the shop
Trek fixed gear conversion. Campy Record cranks