Maybe. If he likes bright green singlespeed bikes that is.
I have been riding the same On One Scandal for three years and there is nothing wrong with it. I just wanted a new bike and the IRS also wanted me to have one this year so there you have it.
After a significant time obsessing over geometry I pulled the trigger on a Kona Big Unit. Vince at Edgewood Cycles is the man to see if you want one of these.
I built it up quick like with a non tapered Niner fork and quickly realized it would not work. Not in the compatibility sense, that part was fine. The bulbous head tube and svelte steerer tube had some serious Hot Dog in the Hallway Syndrome happening and a tapered fork was the only cure. I rode it once with the Niner fork and it was fine but, what the hell I figured, might as well have some squish if I am getting a new fork.
I sold my old Reba easily and got a killer deal on a newish Fox with all the nice stuff, QR15 axle included.
The build is about all the same stuff I always use, nothing exciting and lots of black parts:
Kona Big Unit Scandium frame
Fox Float 120 fork
Cane Creek headset
Industry Nine/Stans wheels
Maxxis tires
Shimano XT brakes
Niner carbon bar with ESI grips
Thomson post and WTB saddle
Sugino crank with surly ring
Endless Bikes cog and KMC 610 chain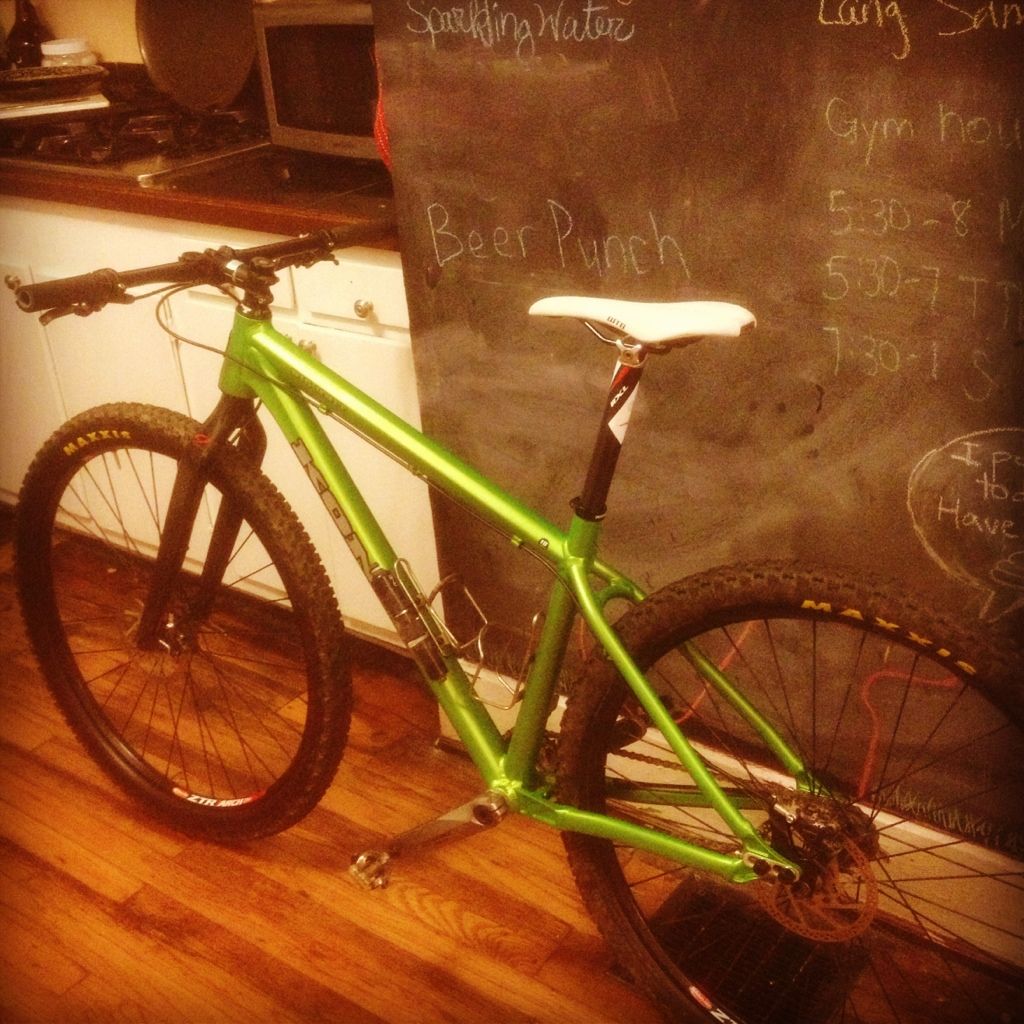 Hasty build with Niner fork
It rides pretty awesome, although I am having trouble with the Fox fork. It is a tough adjustment after 2 years on the Niner fork and I have a bit of trouble with all my new decisions I can make regarding lines to take on trails. For someone that takes fifteen minutes to pick out beer, more choices are not always a good thing. Whatever, I'll knock it back to 100mm and keep riding it. I rode one for years, surely I will adapt like all creatures do.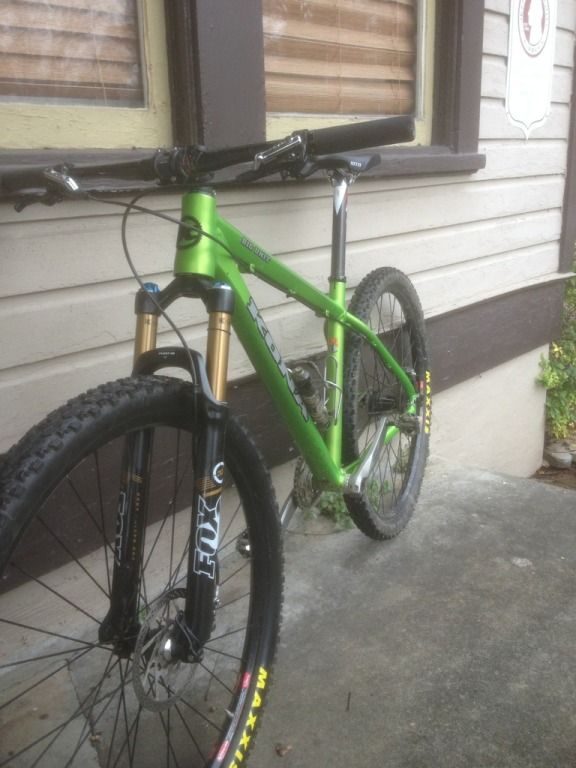 120 millimeters. Sorta overkill
Here are some pics below Chris Olney took with his Go Pro. Damn those take good pictures. I don't so much want one as I do to always ride with people that have one. They are cool.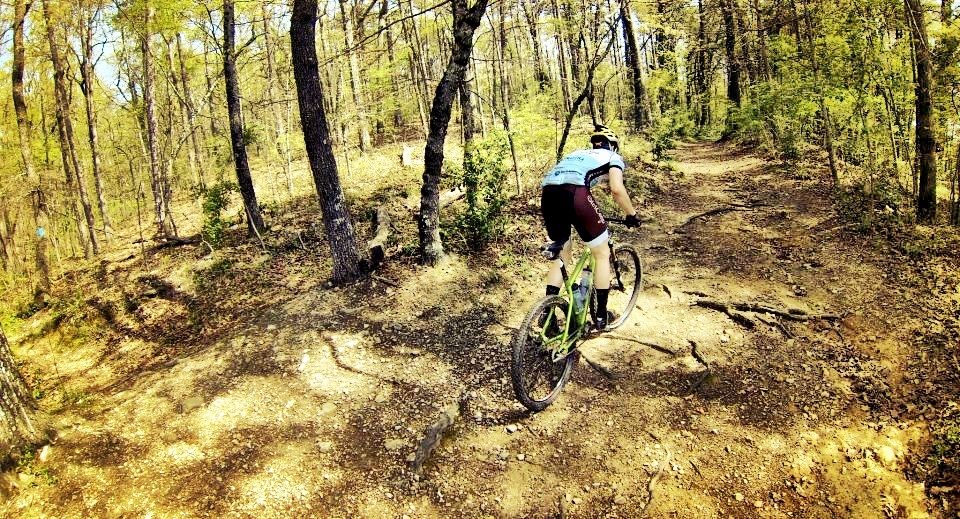 About the tapered head tube and through axle...I dunno. It works fine but I can't tell much difference in stiffness unless the comparison is being made to an old Sid or something. I am happy to be current with standards which will last at least six months before something better comes out. Thanks to the bike industry for continually finding solutions to problems I didn't realize my mountain bike had.
I am signed up for Skyway Epic and trying to get in some sort of shape. I can get going well on anything twisty or downhill but my climbing is shit. I feel the way pugs sound when they exert themselves. I won't be in shape in a month but I will be by the end of the summer which is coming up on Oak Ass 100 time. Yeah, it is still gonna happen and some people better at that organizing stuff than me are gonna make it happen. Keep an ear out, exciting news soon...
I have been going to the gym with Melissa for a few months and actually like it. I have some thoughts on the how and why of it but it is much different from the thoughts of Friel...I'll post up more of that soon.
Also on the brain is some stuff involving Keith Bontrager old "Anti KOPS" article. Remember that shit? It's old! Very interesting though and I have worked through some of the how and why of it. I have some diagrams and whatnot but need someone better than me with math to make a relevant calculation.